Endowus Portfolio Tips and Tricks
In this constantly updated article, we'll share some of the best tips and tricks that you might not know when investing with Endowus.
Last updated: April 2022
Modify your Fund Smart portfolio at any time
Endowus Fund Smart are DIY fund portfolios that you can choose from a variety of best-in-class screened funds from Endowus Investment Office.
Back then, changing your portfolio fund mix wasn't allowed and if you had wanted to change your fund composition, you'd have to re-create a new goal, select funds, redeem your portfolio, and then invest into your new portfolio.
You can now change your portfolio fund mix within a Fund Smart portfolio by modifying your goal, changing the funds or allocation within the Fund Smart portfolio, and then confirm it via SMS.
Best of all, there are no switching costs for changing funds.
Invest in a core factor portfolio managed by Dimensional and Endowus
Endowus partnered with Dimensional to launch Endowus Factor Portfolios to launch a new set of Core portfolios available across the risk spectrum with exposure to global equities and fixed income.
Factor portfolios are a good middle ground between passive and active strategies,  built off a systematic, rules-based process, and offer largely passive, broad market exposure, but tilt towards proven factors of returns.
Their costs are as low as that for passive strategies as well — great for cost-conscious investors.
These new Factor Portfolios by Dimensional are managed in a discretionary manner by the Endowus Investment Office where investors can rely on Endowus' expertise to monitor, automatically rebalance and optimise the funds and weights so that your portfolio delivers the highest risk-adjusted returns for your intended goal and risk.
Dynamic flagship portfolios with custom weights
You can also customize a Core Flagship Portfolio with Endowus by replicating it with a Fund Smart portfolio instead.
This will allow you to take more control of your investment funds if you ever need to, at any time. Say for example you've a 40/60 Core Flagship portfolio and you'd like to tweak the constituents in your portfolio a little.
If you wanted to overweight global core equities, you can easily dial up the exposure in the Dimensional Global Core Equity Fund from 15.2% to something like 18% and reduce exposure elsewhere.
Using Fund Smart, you can re-create the same portfolio with some tweaks, and later change it again if needed.
To further extend the use case, if you'd like a 70/30 portfolio or 50/50 portfolio, you might be unable to do so with the advised portfolio presets. With the Fund Smart goal, you can simply select the same funds, pro-rate the amounts and get your desired allocation!
Use Fund Smart to boost your yields on cash
The same concept can yet apply to your cash management portfolio on Endowus. If you think that the two available options - Core and Enhanced - for Cash Smart are too low yielding and you don't mind taking extra risk, you can tweak your portfolios slightly to achieve a higher projected return.
For example, seeing how moving from Fullerton SGD Cash Fund to UOB United SGD fund almost doubles the yield, and if you as an investor are willing to accept slightly higher risk, you can set up a Fund Smart portfolio for cash management and customise the underlying funds for higher returns.
With a 40% allocation to UOB United, 20% allocation to LionGlobal SGD Enhanced Liquidity Fund, and 40% allocation to Fullerton Short Term Interest Rate fund, it boosts the portfolio's annual return to 1.48% to 1.67% after fees.
While it might not be directly comparable against Syfe's advertised 1.75% on their Cash+, whose returns are driven by the LionGlobal Short Duration Bond Fund which Endowus doesn't offer on its platform, Syfe's offering comes with a higher risk (higher max drawdown and lower credit rating) than what Endowus is willing to offer to its clients for a cash portfolio.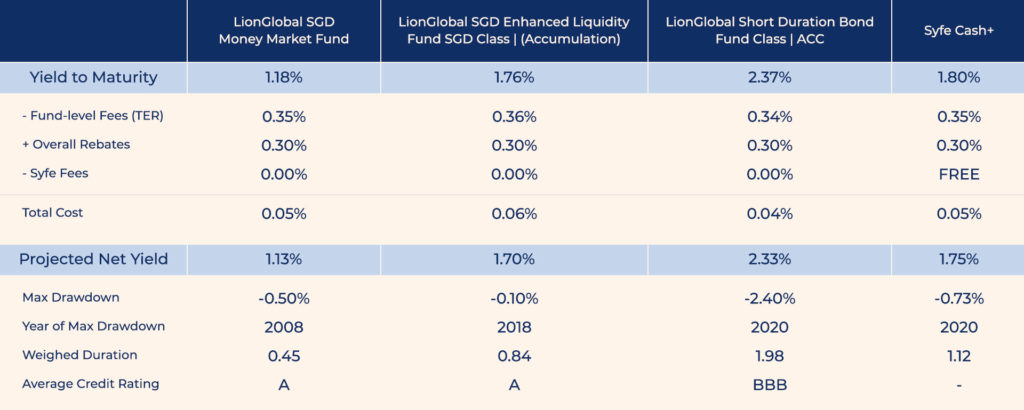 ---
💡
Sign up for an account with Endowus using this link and invest at least $1,000, and you will get $20 in Access Fee credit (equivalent to $10,000 advised free, assuming Access fee of 0.40%).
Get the latest updates on Telegram or by subscribing to the email list.