Interactive Brokers removes $10 monthly account minimum fees
Interactive Brokers has eliminated monthly inactivity fees.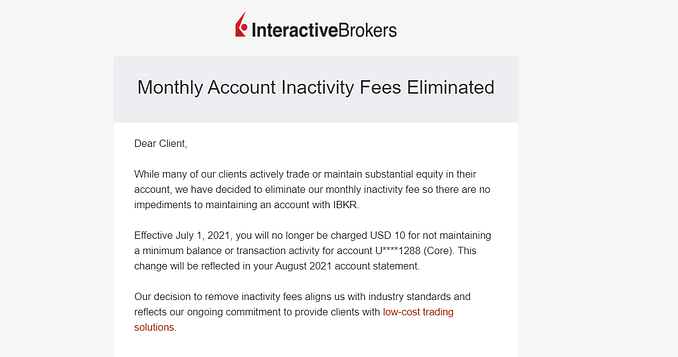 Account maintenance fees used to be a required minimum that Interactive Brokers charges for investment accounts under them.
This fee was previously US$10 and charged on a monthly basis per account  – it is waived if you have more than US$100,000 in equity with them or generate more than 10 USD in commissions and fees for the month.
IBKR has finally removed this fee and it is now no longer charging any account maintenance fees for Individual, Joint, Trust and Org accounts - bringing both the account minimum and account maintenance fee to $0.
Similarly, advisor, family advisors and hedge fund related accounts no longer have a monthly activity fee.
With this reduction, you no longer need to actively trade to incur activity fees, and you no longer need to hold any minimum amount with them. These positive changes reinforce our view that IBKR remains the best brokerage for long-term core investment holdings.
---
Sign up for an account with Interactive Brokers using this link.
Get the latest updates on Telegram or by subscribing to the email list.