SRS hacks for the year end
Here are 3 SRS hacks before you countdown for the new year.
The SRS or Supplementary Retirement Scheme is a voluntary scheme to encourage individuals to save for retirement.
It's an additional savings scheme that Singaporeans can tap where you can make contributions and receive tax relief. This is useful if you are constantly paying a high income tax and want to reduce it but find no better alternatives for your cash on hand.
SRS funds can be used to invest, for example, in a roboadvisor like Endowus or StashAway, or do-it-yourself with approved SRS funds.
Investment returns are tax-free before withdrawal and only 50% of the withdrawals from SRS are taxable at retirement.
You can contribute to your SRS at any time and as often as you like, but contributions are limited to only $15,300 yearly, and must be made in cash.
In this article, with the year end approaching, we explore 3 SRS hacks that you can pursue.
#1 - Lock in your SRS statutory retirement age
This is by far the most important one and we are putting it right at the top.
For those without an SRS account, it's highly advisable to create one and deposit at least $1 into the account – doing so will allow you to lock in your statutory retirement age for SRS withdrawals.
The statutory retirement age is currently set at 62, i.e. you can withdraw your SRS funds at 62 tax-free if you locked it in today.
This figure will increase to 63 next year in 2022, as announced during the national day rally in 2019. It is expected to increase to 65 by end of this decade.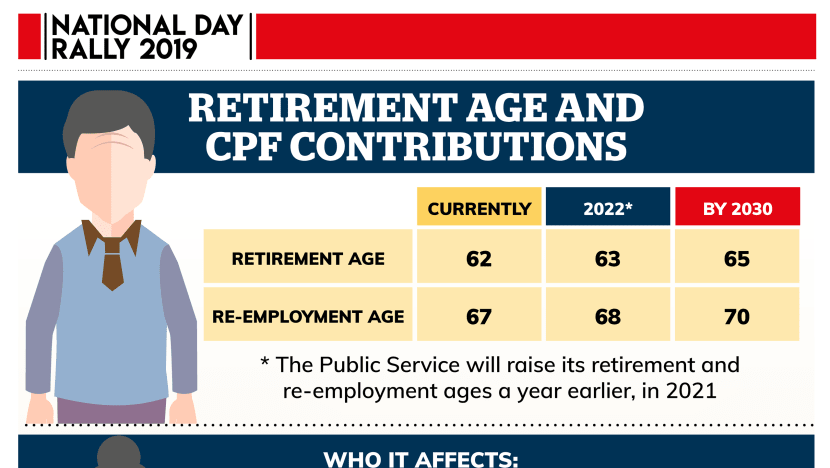 If you do not lock it in at 62 today, subsequently, when you create an SRS account to reduce income tax burden, you'll only be able to withdraw your funds tax-free at a later age (63-65 years old).
As you can see, you'll want to lock in the statutory retirement age at 62 by creating an SRS account with one of our 3 local banks (DBS, OCBC, UOB), which is determined by when you made your first SRS contribution.
To create an SRS account, head over to your local bank and find the SRS option. For example, in DBS, the SRS option can be found in Apply > SRS.
Once the SRS account is created, you can fund it with $1 - easy peasy. You don't have to touch it anymore after this point, but if you want, read on.
Note you can only have one SRS account at any point in time.
#2 - Receive SRS tax relief and immediate ROI
You now have your SRS account created with $1 inside, you've locked in your SRS retirement age – congratulations.
Now, we can take it one step further and use SRS for tax relief.
By contributing to your SRS, you can claim personal income tax relief. Personal income tax relief is a tax deduction which you can claim as an individual during the annual income tax cycle.
There are many different types of tax relief such as CPF relief, NSman relief etc; SRS contribution is another tax relief scheme.
For every $1 of contribution to SRS, you get $1 of relief, up to $80,000 of personal relief cap per year of assessment.
Let's take for example, if your annual income is $65,000 (assuming no personal reliefs, other income or deductions) and you make no SRS contributions, you will pay an income tax of $2300 for the year.
This is based on the income tax table where your Singapore operates on a progressive tax model. With $65K annual income, your gross tax payable is $550 + (7% x ($65K-$40K)) = $2300. Shag.
Contributing the maximum amount ($15,300) to your SRS for the year brings your chargeable income down to $49,700 and net tax payable to $1229, a $1071 reduction and almost 47% in tax savings.
The tax savings is greater if you're in a higher income bracket- say $100K annually. Without SRS contributions, your annual tax payable is ~$5650!
Contributing the maximum amount to SRS reduces your tax payable to $3890, or $1760 in tax savings.
Here's a summary of the results at different chargeable incomes:
| | | | | | |
| --- | --- | --- | --- | --- | --- |
| Chargeable income | Tax w/o SRS contributions | Tax with SRS contributions | Tax savings | Tax savings in % | ROI |
| 65000 | 2300 | 1229 | 1071 | 47% | 7% |
| 100000 | 5650 | 3890 | 1760 | 31% | 12% |
| 150000 | 12450 | 10155 | 2295 | 18% | 15% |
Notice that while the tax savings in % decreases over time as a % of tax payable, your ROI increases – i.e. your tax savings as a % of SRS contributions increases, making it more worthwhile to contribute the maximum amount towards your SRS.
#3 - Put them to work with roboadvisors
Contributing funds into SRS by itself not only gives you immediate tax relief, but it also can be used to grow your retirement nest egg if they are invested.
If you do not invest your SRS funds, they will sit idle and generate 0.05% in interest annually as though they are in bank account - pathetic.
You could invest them by yourself, and there are a range of investment products to grow your SRS funds, from bonds, to SSBs, fixed deposits, shares and unit trusts. This may be a good option if you're super in-tune with financial markets all day.
The better way to do it if you have a full-time job is to invest them in broad, diversified global portfolios - using a roboadvisor like Endowus.
On Endowus, there's the option of creating a SRS portfolio with their Flagship advised portfolios or ESG portfolios, giving you the opportunity to grow your SRS account over time (4-9% annually depending on risk).
These portfolios are similar to cash portfolios, but you now can invest in the same funds, and receive tax relief at the same time.
As mentioned in our Endowus Review, Endowus uses an evidence-based approach to invest through strategic passive asset allocation, global diversification at low cost.
Investing with Endowus has no lockups, no sales fees, no transaction fees, 100% trailer fee rebates and you get to hold your assets in your own name under UOB Kay Hian – offering the best balance between cost, returns and security.
Make full use of SRS for retirement
SRS is literally, a supplementary retirement scheme - it's not compulsory to use it, but anyone can use it (within their means) to build a retirement nest egg and reduce tax payable to the government at the same time.
As you saw above, the first step is to create an SRS account and deposit $1 to lock-in your withdrawal age. If you're making decent money and don't know what to do with it, you can reduce your tax payable 1:1 by contributing to your SRS - up to $15,300 every year. Finally, don't let your SRS contributions sit idle, invest them and let them compound over time.
Note that SRS contributions must be made before 31st December 2021 to be eligible for tax relief in 2022.
---
Get the latest updates on Telegram or by subscribing to the email list.